TD Bank recently announced TD Helps, an online community where specialists answer questions quickly. It's a great initiative. And definitely a step in the right direction. The obvious incentives are better customer responsiveness, lower costs and of course marketing. However, in a world where more than 70% of customers prefer to self serve rather than initiate a conversation, how can we evolve this forum to be what it truly aims to be.
First some great best practices: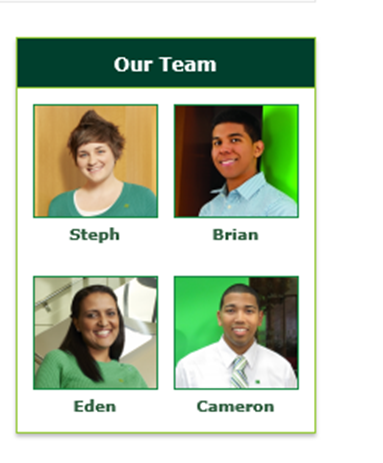 Showcasing the team
Help is not faceless any more. You know who will be working with you and what their credentials are. By showcasing the team, TD showed a real cmmittment to building great relationships. This feature alone may result in higher retention as well as better new customer acquisitions too. What a great confidence builder. If the team clicks that is.
No jumping through hoops
No login. No select "type of question". No logging in with Facebook etc. The first thing they ask you for is your question, and then you enter your name, email and go! It couldn't get simpler. That's next generation user experience.
Going global
The people asking the questions are from all over the world (I saw Australia, Canada and US). What's so great is that there is no forced navigation or segregation by region. Building this international community can be a subsequent step, and TD has focused rightly on getting the Q&A out first.
Being bold
The financial services community has always been wary of these forums. TD Helps – with help of technology hopefully – finally took the brave action – helping customers is more important than worrying about the few who may misuse the forum. Forum curation activities can help with mitigating those risks, which we hope they are doing already.
While TD has done a great job with this initial launch, I hope they keep the following important items on their roadmap:
1. Business process improvements
Every interaction on the forum is an opportunity to improve. There are customers who asked for information on rates, and TD responded with a URL to an online PDF file.  The URL did have the answer, but was hard to find. Every such interaction is an opportunity to service customers better. Because these questions provide valuable insights into what is on the customers' minds. And these are important drivers of acquisitions, cross sell as well as just retaining customers who may leave because they didn't know TD provides what they need.
2. Analytics to improve responsiveness
As data grows, the forum should be made more responsive. Analytics on types of questions, and the previously recommended answers can help customers even before the service team responds. This can manage traffic better reducing the need for the service team to respond to every question. Enhancements in the forum design should flow from this principle so the customers view it less as a Q&A forum, and more as a thriving community of customer advocates.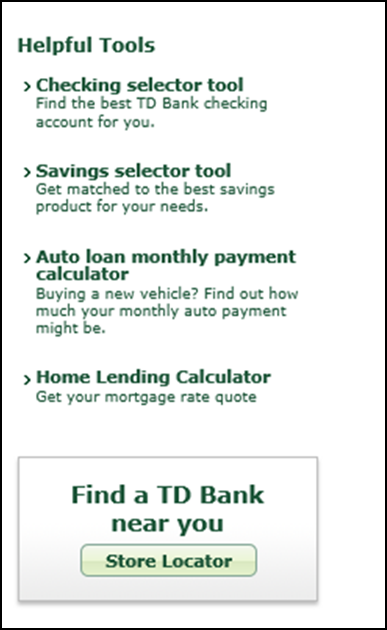 3. Omni Channel access
The world is mobile and social now. The idea is to take our product to the customers instead of waiting for them to come to us. Being where the customers are will be an important evolution of this forum. Facebook and twitter are obvious choices, but more important for the life triggers – moving, changing jobs, getting married, having children among others. How can we be where our customers are. Developing calculators, widgets and interfaces from that perspective will provide true Omni Channel access. Preempting the question by sending information ahead of time when a trigger is recognized could be another innovation provides excellent ROI.
4. Avoiding a dumping ground
When customers have a question, they don't look through your knowledge base if its not found within a couple of seconds. While a majority do try to look around, the threshold of tolerance is low if an easier option like calling in, postponing or emailing someone is possible.  Too many forums have become dumping grounds, relying on search and Google to clean up after them. TD Helps has a good thing going and they should avoid that end state by continuing to focus on this strategic initiative. Constant curation of the Q&A, as well as how relevant they were will be extremely useful to new customers. In addition to categorizing questions by retirement, banking etc., a persona based, or a life trigger based section could be a great addition.
5. Building a community
Banking and financial services have strong local ties. The forum has great potential a transform customers into champions. While the motivations may vary – from self promotion to pure altruism – everyone wants to help others. Tying the forum in with recognized local entities and community leaders will provide excellent leverage to the forum. As with any social initiative, there are inherent risks but with  a little planning they can be mitigated. For example, one of the questions was from a family who was moving. What's better than putting them in touch with a local leader! And by giving third parties ownership, and a viable business avenue, they can provide an open source development community that can catapult the forum to new possibilities.
6. Strengthening social media efforts
Customers are tweeting, posting on Facebook and engaging in many different ways. Most banks have social media monitoring efforts underway to gage customer sentiment and  respond in a timely manner.  Integrating those channels will not only reduce technology and operational investments, but dramatically improve how unified your bank appears to customers. In addition, the ability to launch new business capabilities will be greatly enhanced.
TD Helps is a great initiative. It has potential to link strongly to the social causes that TD undertakes in the communities it serves. And the forum can become a significant source of competitive advantage and growth driver if evolved in the right way. I wrote another blog on the new customer experience paradigm which I think is a good framework to adopt. In addition, the principle of external reinforcement hopefully provides the vision for customer engagement in a digital economy.
* Image sources: TD bank website.